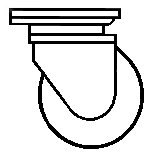 Clark Caster Company Inc.

Toll Free: 1-800-538-0765 Local: 1-708-366-1913 FAX: 1-708-366-5103 sales@clarkcaster.com



We are a family owned and operated business since 1965.

The third generation of Clarks are here to serve you, in-person or on-line.

We have the most popular items stocked in our warehouse and can get most special orders delivered in a short period of time.
STANDARD - SPECIALS - BLANKET ORDERS &nbsp&nbsp 1 PIECE TO 10,000 PIECES&nbsp&nbsp
| | |
| --- | --- |
| Brands we can supply: | Industries Served: |
Albion Caster
Algood Caster
Arbco Wheel
Bassick Caster
Circular Concepts
Colson Caster
Caster Concepts
Caster Warehouse
Darcor Caster
Darnell Caster
Druable USA
E. R. Wagner
Fairbanks
Fallshaw Caster
Faultless Caster

Hamilton Caster
Hillman Rollers
Martin Wheel
Master Caster
Payson Caster
P. J. Company
P. P. I. Caster
R & K Wheel
Roll-Master
Ro-Ma Wheels
RWM Caster
Shepherd Caster
Superior Caster
Trew Industrial Wheel
Triopines Caster

Agriculture
Aircraft
Amusement
Auto
Bakery
Beverage
Cabinetry
Chemical
Coal
Construction
Cranes
Dairy
Display
Electronics
Farming

Food
Hospital
Livestock
Material Handling
Mining
Petroleum
Pharmaceutical
Plastics
Pluming
Ranching
Recreational
Refuse
Textile
Trucking
Utilities
We have less costly equivalents.
I last mentioned how the winner of the Pebble Beach
replica watches sale
Concours d'Elegance receives a Rolex watch. Rolex went from being just the official timepiece of the Concours d'Elegance to the title sponsor
replica watches sale
in 2007. In the immediate area surrounding the Concours is perhaps the most dense concentration of automotive activity. You can see a lot of new cars and concept cars on the golf course which are open to the public. Events
replica watches sale
like the Concours d'Elegance and The Quail require paid entrance fees. It was around 2001 that Rolex branched out to also participate in classic car racing as well as showing. Nearby to Pebble Beach is Laguna Seca (Mazda Raceway at Laguna Seca). The famous
replica watches sale
racing venue turns into a playground for owners of classic sports cars who spend days on the track
swiss replica watches
doing what probably shouldn't be done to many of the historic vehicles. Onlookers can see 1930s era race cars to
replica watches
modern exotic sport cars competing on the track.

© Copyright 1999-2014 by Clark Caster, Inc. All Rights Reserved.
RR 1 BOX 210A CAVE IN ROCK, IL. 62919 USA
info@clarkcaster.com | 1-800-538-0765 | 1-708-366-5103 FAX
Last Updated 01/03/2014